This is No Time For Joint Pain
Regenexx® at New Regeneration Orthopedics
Florida's Premier Non-Surgical Regenerative Medicine Center
More than 132,400 highly specific image-guided Regenexx® Procedures have been performed since Regenexx pioneered the use of orthopedic bone marrow concentrate to treat common orthopedic problems in 2005.
The published research on Regenexx procedures accounts for approx. 44% of the world's research on the use of bone marrow concentrate for orthopedic conditions (cumulative n of patients published & treated with bone marrow concentrate as of 1/1/2019)
Your Complete Guide To Non-Surgical Regenerative Orthopedics
Everything you need to know about non-surgical alternatives to orthopedic surgery.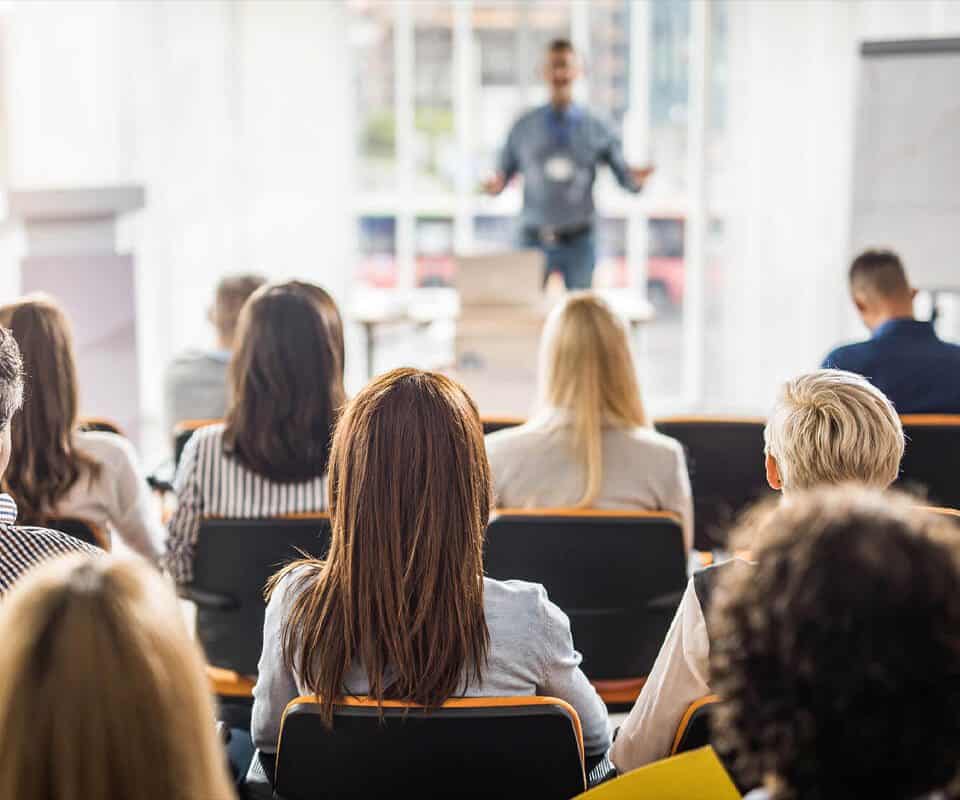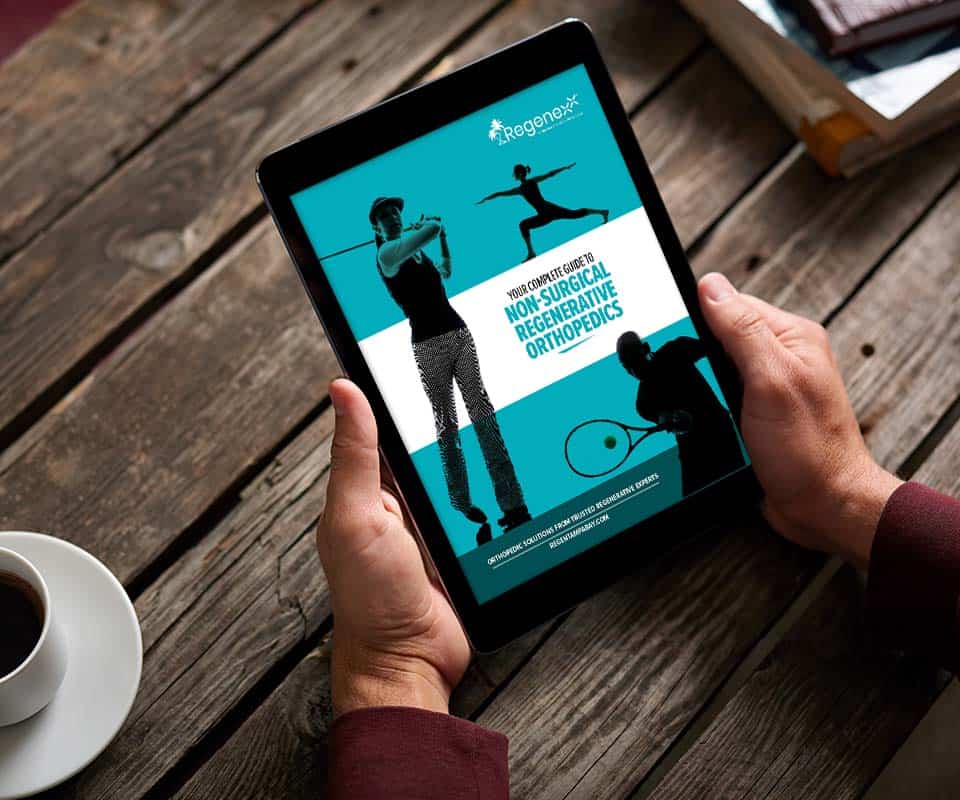 Regenexx® at New Regeneration Orthopedics Is Your First Choice
At Regenexx® at New Regeneration Orthopedics, our #1 priority is to produce the best possible outcomes for our patients. And while our patented protocol is far more complex than you will find at other clinics, we do not cut corners. Everything about your procedure is designed for results.
Regenexx procedures use image-guidance technology to place customized doses of your body's own healing agents precisely into the area of need. To repair, to regenerate, and to stabilize the areas that are causing pain.
I had life improving stem cell and PRP procedures on my left hip, done by Dr. Torrance and his Sarasota team. I was able to go on

a long-awaited trip, hiking and adventure traveling within 6 weeks after the dual procedure. I could not be more grateful. I highly recommend Regenexx Sarasota!

read more

Randa Kayyali Privett
17:54 09 Nov 23
It is only "excellent", excellent place, excellent treatment and excellent professionals. I arrived with a limp on my right knee

and now I walk like a teenager. Thanks to them, I love them!

read more

Martha Hernandez
17:28 28 Oct 23
I had a trimaleolar fracture following two surgeries. When I went to visit Dr. Torrance a had problems to walk properly,

stability, pain and I was been recommended to have a replace tendon and I was looking for an alternative. Last December I had the stem cell treatment and 10 months later together with physical therapy I am able to walk, jump, dance and I feel independent again after 3 years. Thanks Dr. Torrance for your support and follow up!!!

read more

Tatiana Arana
22:44 26 Oct 23
Papas is the best regen doctor. The posterior I got with him were much better than what I got with even Dr Schultz in Colorado.

He's got the touch.

read more

Dr. Torrance has lestened me and explain where I am after 8 week of the procedure. I understood theat I am in the process and

now I should feeling a better condition for my knees.

read more

Juan Fonseca
18:43 17 Oct 23
I was told by an Orthopedic surgeon there was nothing that could be done after a severe fall on my Rt knee. I was wheeled into Dr

Torrence and with one treatment I walked out pain free!! Wonderful results!!

read more

Rochelle Helm
15:13 17 Oct 23
Dr. Papas was patient in explaining all procedures, and did everything with minimal pain. I was highly impressed. I also

appreciated the professionalism of his staff: medical assistants Ana, Kyden, Jordan and Jacob. Front desk clerk, Karen, was kind and comforting. 😊

read more

Claudia Freedman
15:35 13 Oct 23
I've had both Stem Cells and PRP injections in my knees over the past several years. My knees are doing great. Back to

golfing, walking long distances and even playing Pickleball. James Leiber is excellent. He is professional, compassionate and extremely knowledgeable regarding these treatments. He takes his time to explain procedures and why he recommends certain treatments. Everyone in his office has been wonderful to work with through this journey.

read more

Judy Blatz
02:12 13 Oct 23
Last year I fell down stairs and had a severe fracture on my right ankle. Even after surgery for adding titanium extensions to

both sides of my ankle I still had nerve pain, and excessive discomfort 7 months later. I returned to Dr James Leiber to discuss my issues and he recommended me to do a PRP protocol to give the area a new start to heal more completely. After the procedure he told me I had a great opportunity for full recovery. It hasn't been easy but I knew I had tried for PRP procedures in other parts of my body from previous injuries. My husband even did a stem cell procedure on his torn rotator cuff and labrum.I have so much confidence in this dr and in these procedures. After 6-8 weeks I returned to complete pain free mobility. I am continuing to have no nerve pain and endurance to walk unaided. In September I returned to full activity even walking up and down stairs pain free. I see a future again as a 74 year old that will return to traveling , hiking and enjoying life to the fullest. I highly recommend that you try these procedures and believe you to can have a complete recovery to any neuromuscular issue from carpel tunnel, to mobility in your fingers and extremities in your body this really works to restore and repair your abilities to move pain free and successfully return to an active life. Thank you New Regeneration Orthopedics for using our own blood and stem cells to help us to repair our aging and accident ridden parts safely and with great hope!

read more

Gerri Finch
14:02 07 Oct 23
I was suffering with a torn rotator cuff for years. Surgery would mean being out of commission for 3 months, then physical

therapy, loss of muscle tone, and lowered quality of life.My husband found out about Dr Pappas and about PRP as an option.The procedure was simple and quick and involves use of my own blood to heal the tear. I was back at the gym in two days. I did not need to take any days off from work.After six weeks, the ultrasound showed the tear as HEALED!!! My should was feeling great and I was back to lifting heavy weights.This was the best decision!!! Dr Pappas and staff were great and I highly recommend this simple, effective procedure for very quick recovery!!!

read more

Almost 12 weeks to the day of my PRP injections and my elbows were pain free. I had been dealing with chronic tendonitis for 6

years prior. Thank you Dr. Papas. Looking forward to getting my back and shoulder done soon.

read more

Brian Grossetto
15:57 24 Sep 23
Dr. Papas and his staff have helped me tremendously after a car accident. I had several areas of pain and have had stem cell and

PRP and I've gotten so much relief! Everyone in the Tampa office is super helpful and friendly! I would highly recommend Dr. Papas as an alternative to surgery.

read more

Gazelle Stevens
16:46 13 Sep 23
I would highly recommend Dr. Papas and his team at Regenexx. Dr. Papas is extremely talented, has an amazing bedside manner, is

very thorough with his evaluations and I cannot begin to thank him enough for all that he has done for me in helping to alleviate my pain. Because of him I was able to enjoy my life again and be the active person that I was previous to my injury . I will be forever grateful for Dr Papas and his team .

read more

heather arena
16:43 14 Aug 23
Exceptional physician. Helped me get out of orthopedic pain that I had been carrying for more than four years. His regenerative

medicine and bedside manner is second to none. Highly advise being treated by him for anyone afflicted with any kind of injury.

read more

Alberto Cordoba
21:39 27 Jul 23
I had both of my knees treated. One for arthritis and one for a tear. Both are feeling great! Back to most activity.

Susan Smucker
15:27 27 Jul 23
I was having severe neck/ shoulder pain, following a bad car accident and Dr Papas treated me and within a few days I feel better

than I have in a few years. Thankful I found him and his office! Thank you Dr Papas!

read more

Jordan Rodriguez
17:01 17 Jul 23
True to the Regenexx name, the care at Regenexx Tampa Bay was superb. While I am typically a patient at the Centeno-Schultz

Clinic in Broomfield, CO, (also a Regenexx) I needed a procedure that couldn't wait, so I made an appointment with Dr. Torrance at the Regenexx closest to where I live. Dr. Torrance is the perfect blend of very high competence, coupled with outstanding interpersonal skills. Unlike many doctors in the western medical world, Dr. Torrance listened closely to my hopes and fears about the procedure and made me feel completely at peace moving forward with him, thoroughly answering all of my questions. On the day of my procedure, my body ( I was having a lower cervical/upper thoracic spine procedure done) decided to throw a few curve balls. Dr. Torrance rolled with it all with ease and grace. Don't let this doctor's age fool you. He is at the top of his field, working alongside doctors who have a couple of decades on him. While he never made any promises, the outcome of my procedure far exceeded my expectations. In the sea of regenerative medicine options, Regenexx far out surpasses them all. There is absolutely no other place that I would trust to handle my care.

read more

Jacqueline Robinson
01:15 08 Jul 23
Thank you Dr. Papas! After I tried alternative methods elsewhere without long-term success I found Regenexx through the

recommendation of a tennis friend. He had previously went through ankle treatment with Regenexx and successfully recovered as well. After 1 PRP injection treatment and PT afterwards, I was able to recover from my wrist injury and compete professionally in racquet sports again pain free. The knowledge and professional care from Dr Ignatios Papas and his team was outstanding so I highly recommend.

read more

Ignacio de Elia
14:52 29 Jun 23
Very professional with thorough instructions on what to expect. I had cervical platelet injections for neck stiffness, pain and

positional headaches that have been occurring for the past 5 months. After reviewing my MRI, Dr. Leiber was confident he could safely help me.I did not hesitate because my husband has received positive results from Dr Leibers care and though I was quite anxious, I came out of the procedure a bit whoozy (I was given a muscle relaxant and pain medication), slept in the car and went straight to bed for a 2 hr nap. I can honestly say this was my post op "recovery" experience. My headache is gone, I am a little stiff now (day after) but overall, feel much better than before. I am hopeful this continues to be the case long term. What a relief! I am a healthy 59 yr old and want to stay that way for as long as I can!

read more

Nicole Masley
21:41 21 Jun 23
Amazing results I couldn't be happier, Dr Valastro and her team are top notch. Months out and I continue to improve I got both

of my wrists treated and my feet at the same visit and was a painless procedure. I don't use Pharmaceuticals any more and I can sleep through the night!!!

read more

After years of chronic pain in my shoulder and my cervical spine, I found it time to get serious about feeling better. I had the

great fortune of finding Dr Ron Torrance and Regenexx. After a thorough and comprehensive exam, Dr Torrance determined that I was a candidate for both PRP therapy and stem cell therapy. Oh my goodness I am astounded at the results. The decades of chronic pain are GONE! With little to no downtime and physical therapy My cervical spine has improved 100% My shoulder +90% just 8 weeks out. Yes the procedure is pricey but I know I'm worth it if I had it to do over again I would have done it at least 5 years ago. Dr Torrance and his team went above and beyond and explaining the procedure as well as performing. Thank you Dr Ron Torrance because of your expertise this ole gal is getting her groove back.

read more

Mary Monroe
18:48 13 Apr 23
I have cerebral palsy in my left side and have received two achilles tendon lengthening surgeries. I wanted to avoid a third

surgery and Dr. Papas (great guy) recommended the extracorpeal shockwave treatments. After completing 5 weeks of sessions by achilles now feels the best it ever has!

read more

Matt Smith
16:15 11 Apr 23
Went to 3 different doctors to treat my patella tendinitis, got multiple injections and had zero luck until I met Dr Torrence.

Tried a procedure called Tenex that I was hesitant about but Dr Torrence was confident would work and I can proudly say my pain is gone. I owe a lot to this place and Dr for getting me right since this was really affecting my life negatively as an athlete. Thanks Dr Torrence!

read more

Joe Speziale
02:59 11 Apr 23
Can't say enough about Dr. Torrence and his staff. My PRP on my ankle tendons has made me pain free after dealing with this for

over three years, podiatrists, and orthopedic surgeons who just wanted surgery. Thank you again Dr. Torrence 👍🏽

read more

Perinda Patri
13:47 10 Apr 23
Dr Torrance was awesome. Had bone marrow PRP in Dec 22'. Apparently, I had a broken bone in my foot. Dr Torrance injected into

the bone. I swelled up for one week and since then I have had absolutely no pain. So glad I didn't choose surgery and went with PRO instead.

read more

Kathy Zimmermann
21:10 04 Apr 23
Dr. Ron is amazing, he is helping me navigate my neck and back pain. PRP started my journey to recovery, after many years of

suffering, thanks so much for all you do!

read more

Harry Harbach
20:05 04 Apr 23
Dr. Papas treated my lower back, knee and neck. Before treatment I was in so much pain and could walk well or stand straight and

needed assistance. Since treatment I can stand straight, take a nice long walk with no assistance and have better movement in all treated areas. Truly been a life changing experience and Dr. Papas and entire staff have been so supportive. I would highly recommend Dr. Papas and this treatment! I truly cannot say enough good about the whole experience!

read more

Doctor Pappas is phenomenal. He has tremendous knowledge and excellent surgical skills. I am grateful for all he has done for

both my wife and I.

read more

marc parker
01:05 24 Mar 23
Doctor Pappas is an exceptional physician. I had seen other doctors that wanted nothing to do with my elbow. Doctor Pappas used

ultrasound to determine where the problem was and removed it. He is extremely thorough and detailed. My wife had seen him and now i understand why she is so pleased.

read more

marc parker
20:06 22 Mar 23
I've been treated by Dr. Papas for whiplash pain after a car accident as well as jaw pain due to TMJ and both procedures were

very successful. All of the office staff is friendly and knowledgeable.

read more

Emily Popson
20:18 22 Feb 23
I received very thorough and professional treatment from the entire office staff. I am so grateful that my treatment enabled me

to return to my activities that I love to do without pain.

read more

Lori Glass
16:22 14 Feb 23
I had the procedure done on both knees. One September 2022 and December 2022. I had immediate relief. I had no swelling or pain

and was able to return some activities immediately. I had good experience with Dr.Papas and all the staff in Orlando location and Tampa Bay. I don't regret having the procedure. I have my life back.

read more

Carolyn Sirmans
18:08 07 Feb 23
I had a medium size rotator cuff tear which in now completely healed with the help of regenexx I am continuing my work lifting

patients without any shoulder pain . Going back to get my back taken care of next. Much better alternative than surgery.

read more

Susan Dimeo
03:12 03 Feb 23
Dr. Torrence is great!. He not only evaluates the injury/issue from imaging MRI/X-rays/ultrasound, but also takes the time to

listen to the specific symptoms of what you're feeling in the problem joint during his evaluation.

read more

My shoulder was in pretty bad shape with a lot of pain, I had a Tenex procedure done on here and would highly recommend

Dr.Pappas. It was a great experience and recovery has been faster than anticipated.

read more

Matthew Robertson
21:11 09 Jan 23
I am very pleased with the results I have seen from the PRP procedure on my back and one hip. Other orthopedic doctors only

offered me medication, surgery, or steroid injections, none of which had any appeal to me. After my PRP injections, I am more active (proven by the health app on my phone) by twice as much over a year ago. I faithfully exercise and walk, but I no longer need the medication, and I no longer limp. The healing PRP brought me is long-lasting, and it was worth the expense. I am so happy about it. Surgery is a serious injury, in my opinion, and I avoid it if at all possible. The fact that this procedure required no anesthesia was a big advantage too. I highly recommend it and the Regenexx office, Dr. Ron Torrance in particular, to anyone who only has the options I did for managing a condition rather than healing it.

read more

Rebecca Seevers
19:51 04 Jan 23
Dr. Torrence is AMAZING!!!! My daughter is an athlete who tore 90% of her ACL. Western medicine doctors all told her that she

would miss her Senior season and would need an ACL reconstruction. Thanks to Dr. Torrence and Regenexx she underwent a Stem Cell Injection and is on the mend. She is jogging, performing exercises and has full AROM, 5/5 strength and zero pain. She is hopeful to have a normal Senior season before heading off to college thanks to Dr. Torrence and the amazing team at Regenexx.

read more

Stephanie Gifford
19:41 27 Dec 22
I am a physician myself, and I was having issues with my knee. I visited Regenexx here in St. Pete as I'm from Sarasota and

this is by far the Best Stem Cell Procedures for Knee Arthritis. I feel 1000x better. This procedure is backed by science and truly helps!

read more

Michael Renda
21:25 13 Dec 22
I had very crippling arthritis in my neck. Doc Papas suggested PRP treatment. My pain was so bad I had no other choice but reply

ye Ts. It is amazing that everyday my neck is better.Thank you very much Doctor Papas.

read more

Vincent Morton
19:39 08 Dec 22
Dr. Pappas is one of the most caring physicians I have ever met. He is very easy to talk to and provides detail information when

discussing treatment. I would recommend him to anyone seeking stem cell treatment. He took care of my knee and now I can walk through the grocery store and do other shopping without pain.

read more

Dottie Genaw
16:57 28 Nov 22
I tore my supraspinatus tendon playing golf and tried everything, PT, acupuncture, massage for 6 months with no improvement and

very limited movement. Was heading for ortho surgical repair option when my trainer recommended I get a consultation with Dr Papas since he had seen success with this natural, less invasive treatment that only required a couple of months recovery rather than a year. I wanted to get back to golf and swimming but was skeptical. I just went back for my 6 week post treatment check up and the tear was gone, my mobility has increased almost completely back to normal with ongoing PT and happy to say I can finally get back to basic things like doing up my bra, shaving my legs and putting my hair up! Would definitely recommend and in the end the cost was less than it would be with insurance deductibles on 'standard' surgical options. Not to mention much faster recovery. PT also affirmed that they had seen a lot of success with this type of procedure (PRP) in patients for neck, hip, knee and ankle injuries as well. Only downside in my particular case what's that the injection was more painful than expected.

read more

Dr. Papas has help me get back on my feet again. I want to thank for his dedication and knowledge and getting back to riding my

bicycle and running. The care provided by him and his staff was outstanding and highly recommended Regenexx Tampa Bay.

read more

Marcus Sanchez
21:46 27 Oct 22
I am about 6 weeks out on getting stem cells on both of my hips. I am able to do things now that I haven't physically been able

to do in years. Dr. Leiber is an amazing doctor and also really cares about his patients. I can't thank him enough for giving me my life back! Julianne Tulacz

read more

Julianne Tulacz
16:46 24 Oct 22
Dr. Torrence spent more time with me than either my hip or back specialists have soent with me cumulatively over the past six

months. He listened with empathy and asked questions to gain a full understanding of my situation. Also displayed great tenacity in getting medical records from specialists largely unwilling to give them up. Can't wait to get treatment from him! He gave me hope and got me excited that there is another option. Phenomenal experience!!!

read more

Scott Brown
13:52 31 Aug 22
I have been very pleased with my experience at Tampa Bay Regenexx. Dr. Papas is extremely thorough with all that he does. It's

more than just accomplishing a procedure with him. His goal for his patients is to make sure they fully recover and get back to being able to doing the activities they enjoy. I appreciate the way he listens and takes the time to explain things in a way that I can understand. I highly recommend him!

read more

Laura Bostrom
17:12 17 Aug 22
Stem cell therapy for my knees a few years ago and come back yearly for boosters. Dr Leiber is fantastic and I'm still able to

enjoy my work and hobbies because of his treatments... highly recommend!

read more

Melanie Black
15:53 11 Aug 22
Instead of knee replacement surgery I had Bone Marrow Stem Cell Therapy on my knees and it worked! Within a few weeks I had full

range of motion and was walking without pain and better, stronger, faster than I had for at least 10 years. Dr. Ron Torrance knew the latest research for my situation and implemented it: no other orthopedic doctor I saw had a clue. Dr. Torrance is smart, caring, dedicated, and excellent at what he does. The whole team in the Sarasota office was communicative and top-notch. These people really know what they're doing and it's so refreshing to have a positive medical experience with a world-class team! I am grateful for their skills, knowledge, technology, and process. I have my active life back and it feels like a miracle!

read more

Meagan Skaff
10:16 04 Aug 22
I had a meniscus tear for years that got worse and finally got to the point where it was disrupting my normal life, couldn't run,

walking longer than a half mile would flair it up, I couldn't even elevate my foot without support under my knee without it feeling like it would snap! Dr. Torrance did a stem cell injection for me, super explanatory of the process, answering a million of my questions and overall nice guy. After the initial healing phase my knee was great and I was able to start running again within a few weeks. It's been about 2 years now and my knee is still doing amazing, haven't had any flair ups and have way more range of motion than before. I'm so grateful to Dr. Torrance and Regenexx for allowing me to get back to activity (and normal life) again!

read more

Supriya Kumar
00:08 01 Aug 22
Great docs! Happy with results.

Michelle Rego
15:18 12 Jul 22
Dr. Leiber is professional, compassionate, he asks questions and he listens. He has a vast knowledge of stem cell therapy and is

always studying the field around the globe. I have avoided a knee replacement once with his care and treatment and am about to do the same with the other knee. I highly recommend his practice. Most of all find out all your options for treatment before consenting to surgery. You owe it to yourself.

read more

Cynthia Mosser
15:06 12 Jul 22
Had procedure done on lumbar back and knee. Enabled me to stand/walk straight and normally for first time in years. Will be able

to exercise and have better overall health. Staff very knowledgeable and skilled. I originally gave 4 stars but had to change to 5 because now that I'm coming up to 3 months after procedure the results that I've have had are beyond what I expected and I couldn't be happier with the results. I highly recommend this facility and procedure. It changed my life!

read more

Wow! 7 weeks out and I can't believe it! 5 year chronic shoulder problem fixed! Knee that traditional Ortho said needed a

partial replacement is significantly improved in just 7 weeks. I was delighted by Dr. Pappas's collaborative spirit for my procedures and recovery! Highest recommendation!

read more

Willy Nunn
14:28 24 Jun 22
Dr. Papas was extremely thorough with his initial evaluation and took his time to understand my challenges and goals. We then

worked out a plan and are now 3 months post procedure. I continue to see improvements. I waited to write this review as I wanted to see signs of progress as stem cell recovery takes time. If you're thinking about going this route, I recommend you see Dr Papas.

read more

Eric Carson
17:47 03 Jun 22
A friend recommended me to Dr. Torrence a few years back, and he has been nothing short of amazing. He is so accommodating,

willing to help, and is very passionate. His caring nature made the process easy. I've had two stem cell procedures and they have really helped me tremendously in my recovery. I will continue to recommend Regennex and especially Dr. Torrence to anyone in the Tampa Bay Area.

read more

Alexandra Maley
15:16 03 Jun 22
I recently had a situation where I had been driving several miles and when I reached my location, I could barely walk after

getting out of the car. This was sudden and likely a result of old injuries to my low back. I had not experienced this particular issue before. It was difficult to walk, and the pain was rather intense. Doctor Papas recommend and performed a platelet procedure on my low back and the results are amazing! I had relief almost immediately and a week later I'm feeling better than ever! Any apprehension I had about having injections quickly faded away when the medical team walked me through the process and kept me well informed through the procedure. I felt completely at ease with their professionalism and level of care. For anyone who is experiencing pain I would recommend this. The procedure was quick and painless and the results have been better than I could have imagined. Thank you doctor Papas for providing this service and for talking my pain away. I'm so grateful to you and the staff.

read more

Kimberly Langlois
13:51 02 Jun 22
I had severe knee arthritis. I was scheduled for total knee replacement, but thankfully heard about Dr. Torrance and went in for

a consult. He evaluated my knee and answered all my questions. Subsequently, Dr. Torrance skillfully performed stem cell procedure, which involved minimal pain. Over several months, I went from a severe 9 or 10 out of 10 knee pain level down to 0. I went from being unable to walk more than a block with pain to walking a mile pain-free. I went from not being able to stand without pain to being able to cook standing for an hour pain-free. I am continuing to improve beyond these activities. I urge anyone considering joint surgery, such as I did, to consider consulting with Dr. Torrance. I highly recommend him, as a professional, caring, informative physician.

read more

JohnLois Ellis
20:10 29 May 22
I am 72 years old and an active tennis player. The cumulative effect of years of activity caused a degeneration of a tendon in my

left hip. My orthopedic doctor's only solution was therapy and yoga. Regenexx Dr Papas diagnosed the problem and suggested stem cell therapy. It has been six weeks since my procedure and the results are noticeable. Improved mobility, sustained play without pain, and recovery time have all shown improvement. The improvement and the process are consistent with my expectations and what is described in the Regenexx literature. I anticipate continued improvement in the weeks and months ahead.

read more

Gary Bartlett
18:58 25 May 22
Dr. Papas did a procedure on my knee. I had multiple issues with it I am 6 weeks post op and feel the best I have felt in 18

months. This is a great alternative to surgery !!!! Highly suggest stem cell therapy!!

read more

Jason Spairana
16:13 25 May 22
I'm a fourth year medical student who had the privilege of working with Dr. Papas on an Ultrasound Course in Tampa. I had an

outstanding experience, as I found him to be exceptionally personable, professional, and insightful. I would highly recommend anyone to see Dr. Papas for care.

read more

Eric Nicolau
01:56 25 May 22
Great group of people. Doctor Papas is fabulous and totally wanting to solve the problems. The employees are great

Philip Ruck
23:43 12 May 22
Miracle results with Platelet Injection from DR. Papas. S-1stenosis had me sleepless with constant sciatica. 30 days after

treatment I started improving daily. 3 months later I'm pain free and playing tennis and mountain biking full bore. A pain free 1 hour treatment gave me my life back. See Dr. Papas for your best results.

read more

bob brodhead
16:05 11 May 22
I researched this type of procedure for two years before deciding to go ahead with it. The first time, I made a mistake and as a

result my pain remained. This 2nd time, I chose Regenexx because they are the real deal.I had a previous procedure done in Longwood, FL (where I live), and it was a complete sham in comparison. It literally cost me over $5,000 more than Regenexx, who did a much more thorough and indepth consultation. The procedure versus the Longwood practice I went to was as different as night and day. At Regenexx, it felt so professional, friendly, clean, sterile.At the Longwood location, I was asked to lay down on a what looks like a chiropractic table, no one wore gloves, and there was no M.D. involved. A nurse practitioner injected me with 6 shots. I was done in 7 minutes and sent out the door. At Regenexx, the prep and procedure lasted approx two hours. I was well looked after and they walked/talked me through every step of the PRP procedure. Dr. Papas, who is an extraordinary doctor, plus 3 others were present to assist. All wore surgical gloves, masks and gowns.I had the procedure done 9/26/19, and today is 10/5/19. I can honestly say my low back is feeling so much better already. I wasn't even sure that was possible, but each morning I awake, my back pain has lessened. Quite a few hours during the day, I don't experience any pain any longer. Amazing!!! I drove two hours each way to have them do my low back procedure, and I would do it again in a heartbeat. I highly recommend Regenexx and especially Dr. Papas!!

read more

Margareta Mauser
18:19 10 May 22
As a senior medical student, I worked with Dr. Papas on an Ultrasound Course. His experience and professionalism made the

workshop a great success! He had great attention to detail in both preparing for and while teaching the course. I would gladly send my family his way, as I am confident they would receive magnificent care.

read more

Andrew Coryea
01:36 03 May 22
I am in a unique position with Dr. Ignatios Papas and his staff and Regenexx Tampa Bay. I am a Physical Therapist who treats

some of his patients as well as being a patient myself. All the reports his patients give me are 100% accurate. He takes the time with each person, gives full answers and doesn't let you leave without knowing what is going to happen or why. I have had wonderful experiences with him and his staff during my time as both a PT and patient. I 100% recommend Dr. Papas and his staff for any procedure you may be needing.

read more

Jeremy Palubin
18:08 02 May 22
Nice people and state of the art medical tech

Tony Quance
20:17 27 Apr 22
Dr. Leiber is professional, compassionate, he asks questions and he listens. He has a vast knowledge of stem cell therapy and is

always studying the field around the globe. I have avoided a knee replacement once with his care and treatment and am about to do the same with the other knee. I highly recommend his practice. Most of all find out all your options for treatment before consenting to surgery. You owe it to yourself.

read more

Cynthia Mosser
15:22 26 Apr 22
I was a complete skeptic of PRP but figured the downside risk was minimal.Dr. Papas is an amazing healer. Within weeks of my PRP

procedure my pain was reduced by 95%. It is now 6 months since my procedure and my pain has subsided by 99%!!! I am very grateful for Dr. Papas and am now a strong believer in PRP. Living Pain Free is something I will be eternally grateful for.

read more

Captian Ahab
16:27 20 Apr 22
I had Carpal Tunnel release with ultrasonic guidance done by Dr. Ignatios Papas. I was in severe pain and unable to sleep more

than a few hours at night because of the pain. I had the procedure done, minimal pain and discomfort and slept like a baby that night. The swelling is starting to go down and my strength and range of motion are coming back. I would recommend this to anyone suffering from Carpel Tunnel syndrome. In addition the entire staff was very competent and caring making sure I was kept aware of everything and just wonderful. Thanks for everything!

read more

Extremely pleased with the care I received before, during and after my knee procedure. Staff was professional and always

available to answer questions. Dr. Torrance is very easy to talk to and made me feel comfortable during the procedure. Highly recommend!

read more

Heidi Tuozzolo
13:23 08 Apr 22
Great staff! Procedure helped relieve a lot of spinal pain! Will be back for a follow up if need be!

Gail Allen
23:39 31 Mar 22
This is the doctor you need to see and the treatment you need to get if you have osteoarthritis! I was in route to get a knee

replacement until I met with Dr. Papas. I went from being unable to stand without severe pain for 9 months to walking around and getting back to my normal life in 6 weeks. Wish I had known about him sooner. The facilities and the staff are very welcoming, understanding, and are centered on how they can best help you. I am recommending everyone one go here before attempting major surgery and dealing with long term pain management.

read more

Finally, a physician who was willing to take the time to properly diagnose and treat my problem instead of just prescribing pain

medication! After 10 years of being in constant pain and 3 years of being unable to do even the basic of activities I am back in the gym and able to physically do anything I want. Recovery has been somewhat challenging in my case, but Dr. Torrence and his team have been nothing but helpful and supportive the entire time. I would absolutely recommend them to anyone.

read more

Becky Johnson
13:36 22 Mar 22
Hands down the best orthopedic doctor in the Tampa Bay Area! My first treatment was little painful I'm not going to lie but the

results so worth it!! If I would have to do it again I would take the 2 anxiety pills not just one. Overall my experience was pleasant and I would do it again if need be.. my lower back pain is GONE !! I'm back to do physical activities! With no PAIN..the office staff is very friendly and helpful. We are so blessed to have one of Doctor Leiber right here so close to home. My God continue to bless him .

read more

Oderay Nelms
22:05 18 Mar 22
Dr Ronald Torrance is on time (seems rare these days) and on point. He definitely knows what he's doing. We had seen several

doctors prior to seeing him and after multiple procedures and such, they simply told us "there was nothing else they could do". We feel this was a good choice and we are on a good path. I highly recommend anyone dealing with pain to at least consider a consultation.

read more

Floridafarleyfive
16:26 15 Mar 22
Dr. Torrance was very helpful and professional. Made sure my procedure very uneventful and the outcome was great.

Jene Baughman
15:36 15 Mar 22
The wait time was longer than it should been. After Dr. Leiber came on he reviewed my progress and I was able to ask any

questions I needed.

read more

Linda Weaver
17:02 08 Mar 22
I highly recommend Regenexx. The staff is supportive and professional. Dr. Papas is thorough, easy to talk to, and is extremely

knowledgeable.

read more

Loren Buckner
14:00 05 Mar 22
I have been suffering with back pain due to herniated discs in my lower back. In fear for years of "getting cut" for this and

having irreversible effect I finally found Dr Papas!I watched the very informative videos on YouTube, visited his office for a consultation and was convinced that the downside was minimal at best but the results could be LIFE CHANGING…… THEY WERE! Nothing short of a miracle. I have a new lease on life! FYI 2-3 day recovery tops, then physical therapy. AMAZING! Dr Papas and Regennex are the upmost professionals. THANK YOU!

read more

John DiSantis
14:24 17 Feb 22
Dr Lieber is the Best!!! My knee is almost perfect!!! Have very little trouble with it!!!Went with stem cell instead of

surgery!!The orthopedic dr I went to first said I needed two full knee replacements (surgery) was my only option!! Of course he wants to do surgery on you he's a surgeon.I don't call that a Dr a Dr is supposed to give you all your options and he never mentioned stem cell!! My daughter did and I'm so thankful she mentioned it!! Go with Dr Lieber or at least check it out!! Once you have surgery that's it!!

read more

Carol Campbell
17:12 15 Feb 22
I found Dr. Papas and Regenexx through a family friend after 4+ months of severe back pain. I am in my early 40s and am active

and healthy so to have debilitating back pain was a true crutch to my lifestyle. I saw chiropractors, had massages, went to Physical Therapy you name it and nothing was improving. A family friend found a lot of relief from the Regenexx group so I figured I would try it. After a thorough consult with Dr. Papas in the St. Petersburg office it was clear that the PRP (platelet rich plasma) procedure would truly solve my issue. We scheduled it for a month from the consult and the staff walked me through the entire procedure prior to my appointment. The actual procedure start to finish was maybe an hour. I went home and rested that afternoon with very minimal pain. The next day I was able to complete tasks regularly and after 4 weeks I saw extreme improvement. I am now 8 weeks post-procedure and I have ZERO pain. I am slowly easing back into my workout routine and feel great! Thank you to Dr. Papas and his staff for everything. I am so grateful to have my physical health back and could not recommend Regenexx to more people. I feel like a walking testimonial- I am telling everyone about my success story!

read more

So thankful I found Regenexx and Dr Papas. I was diagnosed with a bulged and torn L5 disk. Was told by another doctor that a disk

replacement was my best option. I found regenexx and had a consult. Two weeks later I had the platelet procedure done. Had it done on a thursday and was back at work on Monday. Now 6 weeks later and feel great. I am back to working out and cycling. I love the fact that they tell you to be active to aid recovery. I can't recommend Dr Papas and the procedure more!

read more

chris alamorian
17:55 04 Feb 22
At age 71 I sought stem cell to turn the clock back on thumb arthritis and a grade 4 full-thickness tear in the shoulder, both of

which were disabling me from playing competitive table tennis. For these objectives I won the lottery by finding Dr. Leiber. At 6 weeks post procedure I am back on the court playing better than ever. AMAZING! Dr. Leiber is the consummate expert in the field of stem cell. I have friends with similar issues who went elsewhere, spent less money, obtained lesser results and are not back on the court. Do your due diligence for sure, and then meet with Dr. Leiber for the best possible outcome.

read more

Steven Weston
15:48 01 Feb 22
I am so blessed to found Regenexx. Dr. Papas is so knowledgeable and even more he has the ability to explain everything to you

clearly so you can understand what, when where and why. I also went to three other doctors before who clearly talk out of their a s s and it's obvious because they could not explain in detail. He knows his stuff and I trust him completely. He is a regenerative medicine doctor- not an orthopedic pretending to deliver stem cells. 100% recommend him. I'm excited for the future.

read more

Clean office, friendly and helpful staff. Dr. Ron Torrance was great, he took a very long time with me listening and going over

everything. Answered most of my questions before I even asked them. I highly recommend him!

read more

Meghan Finch
17:11 20 Jan 22
In 2020 I was looking at knee replacement surgery until I found Dr. Papas at Regenexx. He had me go through his recommended

combination PRP and Stem cell treatment to improve my knee joint. Now a year later still walking, no more baker cyst, etc. He is the best and knows his stuff!

read more

Eric Chambers
01:05 15 Dec 21
Regenexx staff always follows up to see how I am doing even months after my treatment. They are truly interested in making your

situation better and allowing you to do whatever it is that you love to do pain free. I have had great results with knee, neck and lower back treatments. Regenexx has given me a non surgical procedure with little downtime so I don't miss playing golf!!

read more

Bette Smart
18:57 08 Dec 21
All aspects of my care with Dr. Torrance and his staff have been excellent. I have had several procedures with Dr. Torrance and

my most recent experience was no different yet still left me very impressed and recommending him to random people wherever I go. If you are looking for a final solution in order to achieve actual healing and a 100% recovery from spinal disk injuries or avascular necrosis he is your guy.

read more

I have lived with major pain in the degeneration of my left knee lateral and come to recent discovery of torn meniscus.. Dr

Torrance and staff ease my mind and understood what I was going thru. Dr Torrance mentioned a procedural aspect of what was to occur. I went thru the procedure with only one sleepless night and starting the process of healing . I'm grateful for this as my pain has greatly diminished. Thank you Dr Torrance and Staff

read more

Michael Castellano
11:38 24 Nov 21
I have had torn rotator cuffs on the left and right shoulders repaired with PRP, and neck pain from bulging discs in the cervical

spine repaired with PRP and Lysate. Dr Torrance is the best! My first option for any orthopedic problem will always be New Regeneration!

read more

Mary Guler
21:39 11 Nov 21
Dr. Ron is an exceptional Doctor who answered all my questions from day 1. I am 7 months post procedure and would say 95% back

to my normal ability following a torn meniscus. This has been a great experience #1 avoiding a surgery with lay up time and followed by weeks of PT, I personally as a Chiropractor myself did not have time to waste. I went into Regenexx on Friday and then Monday, I was back in the office practicing on Tuesday seeing my own patients. Regenexx facility was exceptional, clean, and great staff. I recommend my patients to Dr. Ron anytime versus a traditional orthopedic surgery. I hope to see more procedures like this versus traditional surgeries in the future. Thank you Dr. Ron for helping me elevate my health.

read more

Ryan Weaver
14:42 09 Nov 21
I love Regenexx and Dr Papas! They have helped me finally be able to play my instrument again. I went in to check if I had carpal

tunnel and I had a medium case of it in my right wrist. The surgery wasn't too bad and my wrist healed up pretty quickly in about 3 weeks. I had doctor Papas and he was such a pleasure to talk with, he humored me on all of my medical questions and did an amazing job explaining everything. The procedure is so damn cheap too compared to the normal surgery. I can't thank this place enough for giving me my passion back in playing piano and guitar without pain anymore. If you're wondering if it's right for you just go this place is amazing!

read more

Brendon Menendez
16:00 29 Oct 21
Dr. Torrance epitomizes compassionate care, providing world-renowned regenerative medicine solutions for even the most complex

orthopedic challenges. His knowledge, passion, and determination to get you back to living a healthy, active, and pain-free life are a triple-threat and comfort for any hurting and hopeless patient. My results with stem cell therapy and PRP at Regenexx have been nothing short of miraculous, and I cannot recommend Dr. Torrance and his team highly enough.

read more

Ellen Flynn
14:48 28 Oct 21
Everyone at Regenexx was extremely nice and professional. They made me feel comfortable from the moment I first walked into the

office. I would recommend this place to my family and friends.

read more

Jose Cardenas
16:08 12 Oct 21
The doctor was very professional and took his time explaining all the possible treatments for my condition.

David Yuzuk
21:42 05 Oct 21
Great place, The wait time was very short the doctor and staff are so helpful and very professional.They made me feel really

comfortable.Big thumbs up

read more

Armando Matias
14:07 05 Oct 21
Thank you Regenexx Tampa Bay! Thank you Dr Ignatios Papas! My 2nd and 3rd posterior cervical injections (jan 2021 and July 2021)

helped bigtime with pain relief! Ive had over 90% pain reduction my 2nd treatement this January '21. C3-T2 facet / ligaments injected, with a combination of SCP, PRP, PPP into trigger points.I highly recommend Dr Pappas @ Regenexx Tampa Bay! Pillars in the interventional orthopedics field! Orthobiologic's are the future an the work yall do is appreciated.For anyone with a cervical neck injury, you can see more about my rehab on my stories robynhay617 Instagram.

read more

Dr. Torrance was a pleasure to work with. He was extremely attentive to my symptoms and treated my injury effectively. I would

recommend seeing Dr. Torrance for any of your orthopedic needs!

read more

Jessica Gaffney
18:59 10 Sep 21
Dr. Lieber is an incredibly kind and knowledgeable physician. Best in his specialty. Also, his platelet rich plasma injection on

my wrist worked extremely well.

read more

Michael Hadley
13:40 08 Sep 21
I had a non invasive Carpal tunnel release surgery done by Dr. Pappas. It was almost painless required only 24 hours of downtime

and required no pain medication after it I was awake through the whole procedure and didn't feel a thing Dr. Pappas is the greatest I highly recommend him for your carpal tunnel surgery

read more

Matt boerger
16:40 03 Sep 21
Clean facilities, responsive staff, and a knowledgeable Doctor who all put you or your issues first. what medicine is

supposed to be.

read more

Wolf Weinhold
16:46 30 Aug 21
Professional staff, friendly welcome, straight to the point on procedure, wrist PRP completed, 3 month recovery process, strength

& flexibility at 80% compared to other wrist 12 weeks post op, would recommend others with tennis, racquetball, pickleball wrist injuries.

read more

Thomas Head
16:54 26 Aug 21
There are athletes and there are Doctors. Ron is one of those few who is both. This gives him special insight to both the

pain and the performance demands of patients who refuse to quit. I nearly separated my right shoulder in a bicycle crash and was facing surgery and a year plus rehabilitation; using the ortho-biologic procedures practiced by Ron I am back up and riding in 3 months and beginning to do overhead weight training.I can not recommend Dr Torrance and the Regenexx procedures enough.

read more

Wolf Weinhold
14:46 05 Aug 21
I have been receiving stem cell and prp injections from Dr Leiber since 2016 for various old sports injuries. I wouldn't go

anywhere else!

read more

Linda A. Wood
23:29 04 Aug 21
Dr. Torrance is extremely knowledgeable about his practice! He made me feel comfortable right away and explained my injuries in

detail along with my plan for treatment. He looks at the full picture of your health and truly finds the best treatment specifically for you. He's the best!

read more

Casey Garrett
22:29 04 Aug 21
I only wish I had learned of this sooner. In May, 2021 I underwent stem cell treatment on my knee and lower back. In 8 short

weeks I have had amazing results. Prior to my treatment I struggled walking more than a mile and had consistent discomfort in most daily activities. My lower back was so painful I was put on array of anti inflammatories that only masked my pain. I love the outdoors and being active. My lifestyle was changing and not for the better. I learned of Regenexx through my employer. I researched and after having 2 hip replacements a few years ago I thought this was a much better option to surgery if I was a candidate. I met with Dr. Torrance to discuss my options and so glad I did. He is brilliant, passionate & professional .Committed to his field and patients.I would recommend Regenexx and Dr. Torrance to anyone.

read more

Linds Mattes
21:08 27 Jul 21
I had a great experience with Dr Papas and the PRP treatment done on my knee, hip and shoulder (old sports injuries, tears on all

of these areas).Dr Papas really listens and meets you were you are. I made him aware of the efforts and programs I was engaging in to help rehab from my injuries. I greatly appreciate that he partners with you to identify what level of support you need and doesn't just treat you like a statistics. I am in my 30s and weight 240, I had PRP done in May 2021.Now to the meat of it, I have/had lateral and medial miniscus tears on my left knee and was looking to having it scoped (I had already scoped my other knee which now has arthiritis). I also had labral tear and some damage to rotator cuff on my shoulder and hip labral tears. I did a lot of research and thought I give Regenexx a shot. I had PRP done previously by a knee surgeon but this was a completely different experience and it is all in the methodology.I was in constant pain on all three areas and had just learned to live with it. I wasn't expecting drastic response was just looking for some pain relieve. To my surprise my hip pain literally went away on day 1, like gone. Something that, IR, Red light therapy, cold lazer, PT, supplements had no impact on.As for my shoulder, this go me scared as I was in pain and had the shoulder popping for the first 4 to 6 weeks post procedure. Dr Papas warned me that this would happen but because of how good my knee and hip felt I was concerned that something had gone wrong. Week 7 all of the popping went away and pain was reduced by 70 to 80 percent.I don't usually give reviews but this has truly been life changing for, I was literally facing knee replacement surgery(yes you read that right). I had been wearing compression knee braces practically 24 hours a day 7 days a week for years and could not lay my leg straight without numbness and pain.I have not worn knee braces since I had the procedure done! I find it weird to walk around in shorts and to be able to see my knees rather than knee braces.I grew up playing sports and lifting, now that I am a parent I feared that I would not be able to coach and do what brought me so much joy with my kids. I don't feel this way anymore.Thank you, Dr Papas

read more

Albert Mojica
23:46 22 Jul 21
I had a great experience with Dr. Papas and the staff at Regenexx Tampa Bay! I sustained a hip labral tear and was able to get

evaluated by Dr. Papas, and he recommended a PRP injection to heal the area. After the procedure, PT as well as OMT therapy helped me resume normal activities a few months later, and an ultrasound scan reveals the tear has completely healed. That would not have been possible with physical therapy alone, which is all my GP had recommended. I'm convinced that interventional orthopedics like the treatment I had from Regenexx are a far superior solution to the standard care options offered by most doctors. If you are considering surgery or other treatment for an orthopedic injury of some kind, I highly recommend reaching out to Regenexx for a consultation, because they may be able to help you get back to your normal activities faster, with better long term healing and much less pain.

read more

Heather Gordon
02:40 21 Jul 21
Expert and professional. Regenexx has kept me out of the joint replacement crowd for 10 years. The best investment I have ever

made is with Dr. James Leiber.

read more

Dr Papas and the Tampa Regenexx staff are awesome! My procedure for a torn meniscus provided a full recovery with minimal

downtime. Starting PT before the procedure and continuing it after were instrumental to my fast recovery. Had I opted for surgery, I would have been down for months… with the stem cell/PRP alternative, I was significantly improved in a matter of weeks.

read more

Sherry Morgan
16:17 19 Jul 21
As someone who gets extremely nervous in any medical situation, I have truly never felt more comfortable than I did in this

office. My appointment included a blood draw in the morning and the procedure in the afternoon. I was extremely nervous upon arrival for the blood draw and Anna took the time to talk me through everything. She gave me options on how we could do things and kept me distracted the whole time. She let me ask a ton of questions about my upcoming procedure and I was extremely pleased when I found out she would be there too. Once I returned for the procedure, I spoke with Dr Papas who also communicated with me throughout the entire process and made me feel as comfortable as possible in such a vulnerable position. He continuously asked how I was doing and updated me as to how much more we had left. Throughout the whole procedure Anna was there, being just as amazing and supportive. I had picked Regenexx for my procedure due to their extremely thorough consultation and beautiful offices. I dealt with Kimberly for the booking and payment process. She was very helpful and explained all of my options at length. Thank you so, so much to everyone at Regenexx! I cannot recommend them enough.

read more

Abigail Beardsley
13:39 17 Jul 21
As someone who gets extremely nervous in any medical situation, I have truly never felt more comfortable than I did in this

office. My appointment included a blood draw in the morning and the procedure in the afternoon. I was extremely nervous upon arrival for the blood draw and Anna took the time to talk me through everything. She gave me options on how we could do things and kept me distracted the whole time. She let me ask a ton of questions about my upcoming procedure and I was extremely pleased when I found out she would be there too. Once I returned for the procedure, I spoke with Dr Pappas who also communicated with me throughout the entire process and made me feel as comfortable as possible in such a vulnerable position. He continuously asked how I was doing and updated me as to how much more we had left. Throughout the whole procedure Anna was there, being just as amazing and supportive. I had picked Regenexx for my procedure due to their extremely thorough consultation and beautiful offices. I dealt with Kimberly for the booking and payment process. She was very helpful and explained all of my options at length. Thank you so, so much to everyone at Regenexx! I cannot recommend them enough.

read more

Abigail Beardsley
13:37 17 Jul 21
In 2014, at age 70, I had a 50% tear of my semimembranosis tendon behind my knee. I workout regularly, BodyPump, spin and outdoor

cycling. I went to Dr. James Leiber at Regenexx, Sarasota, FL and he diagnosed the problem and did two PRP (platelet rich plasma) procedures, a month apart. It got me back to the gym and cycling. This year, age 77, I thought I had injured a muscle in the same leg while cycling. Very painful, Dr. Leiber did an ultrasound, found some minor tearing, and ordered an x-ray and MRI. To our amazement, the original semimembranosis tendon injury from 2014 had completely healed, and the pain from recent cycling was just a minor strain which went away with a some rest. He is extremely knowledgeable, skillful, asks great questions, and listens. I am fortunate to have him as my go-to for problems like this. His leading-edge Regenexx technology enables me to maintain a very active lifestyle.

read more

Victor Kline
16:56 15 Jul 21
A few years ago, I had a right rotator cuff stem cell procedure done by Dr James Leiber. The exam before the operation showed my

rotator cuff was 90% torn. The exam also showed my right labrum was torn. The procedure was done in his out patient office. The operation was non-evasive (pain-free).I wore a shoulder sling for a few days then was given the go to take it off. I lifted my arm above my shoulders and there was no pain. For the next few weeks, I went to physical therapy to strengthen my shoulder and it wasn't long before before my therapist excused me for everyday activities.I highly recommend Dr.James Leiber to you for any stem cell procedure that deals with any kind of possible orthopedic challenge you could be facing. It was one of the best decisions I've ever made for my life.John Finch

read more

Gerri Finch
16:53 14 Jul 21
The team was efficient, courteous and very professional. Dr Leiber performed a non invasive carpal tunnel procedure on both my

hands and PRP on my trigger fingers. They worked quickly and seamlessly did their parts. The procedure was pain free. I am home recovering and healing nicely. I will return for my follow up this week to report all is going well. I have had three days of recovery and have only used Tylenol to keep the post procedure comfortable as I am healing. I can tell already that the mobility in my hands has returned. This was a great decision for me and I highly recommend it to anyone looking for alternatives to correct carpal tunnel and trigger finger issues. Great experience with a great team.

read more

Gerri Finch
11:40 13 Jul 21
This is round two with this forward thinking company with very knowledgeable professionals caring for us. Thank you for

partnering with my company's benefits package.

read more

Michael Lukus
10:31 27 Jun 21
I consider Dr. Papas, his team and Regenexx the gold standard in orthobiologics. Within a 3-year period, I've had multiple

areas treated with stem cells, PRP, Platelet Lysate (for my back) and most recently my own fat.I started seeing Dr. Papas for OMT. In the process we discussed some pain I was still having with my hamstring, wrist and hip which was waking me at night. He suggested a fat injection for my wrist and hamstring and PRP for my hip. Ultrasound showed my hamstring had considerable wear. I had a 60 to 70 percent tear in my hamstring before having stem cells with Regenexx in 2018. OMT was for a rib sliding and irritating a nerve causing a sharp pain in my chest. Dr. Papas is such a skilled OMT provider and with adjustments and PRP injected where the rib connects to my spine to strengthen it, the sharp pain has eased off tremendously. I'm now over 6 weeks post procedures and 90% pain free!! No more waking at night from hip pain!It's very comforting to know that I can have future problems treated by Dr. Papas. He's earned my trust and he and his team make you feel as comfortable as possible before and during your procedure. He's very knowledgeable and professional with a caring and calm approach. Takes time to answer all questions and explain procedures. I urge anyone considering orthopedic surgery or dealing with joint pain to see Dr. Papas first. It may not be covered by insurance, but I consider it an investment in my health both physically and mentally. And at 71, I want to stay as active as I can. I'm back to enjoying activities I thought I'd have to give up. I had just about given up on my arthritic wrist thinking I would need surgery and now I'm back to including full body pushups in my work outs. Thank you so much, Dr. Papas and team!!

read more

Sally Serralles
01:47 17 Jun 21
Great friendly staff. Dr. DiBlasio helped diagnose my problem and recommend a course of action for me. I'm happy and would

definitely recommend this practice.

read more

Dane Wiren
15:01 16 Jun 21
I came to Regenexx and meant with Dr. Papas in early March 2021. I suffered a spontaneous spinal epidural hematoma 10-30-2019. I

had been told my current state of pain and inability to do everyday life was probably my best prognosis. Dr. Papas did the most thorough and informative exam I had had since my life changing event. He suggested Platelet-Rich Plasma treatment as a possible option to help me. He was very up front with me, stating My situation was a little unique.My first treatment was March 16th and I felt gradual improvement. By May I was walking with less pain and able to do more upright activities which I felt was about 70% improvement. I had a second treatment last week. I am looking forward to seeing how much farther my usefulness of my neck and mid back will improve.Thank you Dr. Papas and your team at Regenexx, Tampa Bay.Sheryl Runion

read more

Sheryl Runion
14:29 01 Jun 21
Prior to seeing Dr. Leiber I had considerable back pain that limited my daily activities. I have had several successful platelet

and stem cell procedures with him that have enabled me to live a fairly pain-free life. Dr. Leiber and his staff are personable and totally professional. I highly recommend anyone considering platelet/stem cell treatments contact Regenerexx.

read more

Ellen Scott
16:48 13 May 21
It's been over 6 weeks since my knee procedure at Gold Coast Orthopedic. At this point I am extremely satisfied with the results

so far, but more so the care and compassion the entire staff exudes...from the doctor and his very capable technicians, desk staff...even the contacts with Kimberly at the main office.

read more

Howie Vogel
13:36 11 May 21
I am so thankful for stem cell therapy, and am 100% satisfied with everyone who has helped me with my treatment. My experience

has been exceptional. Most important....I have regained mobility without pain in my knees and avoided knee replacement.This has been the best medical experience anyone could ask for. The results are amazing!

read more

The people that work there are very caring, explain the procedure so you know what to expect. Regenexx procedure is well worth

the price vs having total knee replacement.

read more

Tom Lemcool
15:11 07 May 21
I had PRP for a tear in a tendon in my shoulder on 2/15/21....followed by 10 weeks of PT. Today 5/4/21 I am 98% pain free! Only

discomfort is when I lay on my shoulder too long while sleeping! I am so grateful for Dr Leiber & his practice for this amazing procedure!

read more

Jean Chaff
17:19 04 May 21
All staff and personnel were courteous and friendly genuinely concerned. Alongside personal and professional physical therapy

efforts my lumbar back recovery was greatly enhanced by the platelet procedure. Pain free and loving it!

read more

I would highly recommend Regenexx to ANYONE experiencing pain. I had chronic knee pain that was disrupting my quality of life.

Dr.Pappas and his team did a procedure on my knee (2 hours) and now I am back to living my life painfree. They get 5 stars for their followup as well. BEST PRACTICE OUT THERE!!

read more

It has been one year since I had my procedure done on my knee and I would have to say that I currently have no pain and am

playing pickleball three times a week, golfing three times a week and riding my bicycle 10 miles five days a week. One year ago I was walking with a cane my pain was so intense.Ted Wilson

read more

Ted Wilson
17:29 20 Apr 21
It was comforting knowing there was someone on staff helping me with every step of the way. Once I made my decision, I was given

a great deal of information regarding each procedure. If ever a question arose, the support staff was there to answer my concerns.The healing process went along nicely and I was very pleased with the results of my stem cell procedure. I continue to do my physical therapy exercises and I am more mobile than I was before.From the very pleasant reception to the follow-up appointments, Dr. Papas and his staff couldn't be more informative and friendly. I highly recommend Regenexx if you experience joint pain.

read more

Beverly Gonczar
14:55 15 Apr 21
I had my initial consultation with Dr. Torrance and I was so very impressed. I am a Physical Therapist and I was so glad to see

the amount of time he spent explaining to me what he saw, what he thought, what he thought was the best next step, and even the risks and benefits of that next step. From that moment on the staff has just been incredible. They promptly called me and got me scheduled for my procedure, provided me with answers to my questions, and sent me over all the information I needed! I'm eager to see whether this is going to be my "saving grace" but I highly recommend Regenexx and Dr. Torrance! He has excellent bedside manner, wonderful ability to answer my questions (even the science specific ones!), and is making the whole process as easy as he can!

read more

Kaylee Simmerman
16:19 01 Apr 21
I'm so thankful to Dr Leiber and his staff. He treated hernias on my cervical area. I was able to get my life back. Simply the

best !!!

read more

Anagloria Mora
17:08 29 Mar 21
I had 4 areas treated - multiple tears in my shoulder [including the rotator cuff tendon complex and labrum], ankle, and wrist,

as well as hip flexor tendonitis. I've been an athlete all my life and have had the attendant injuries that come with sports. I'm still, though in my 60s, extremely active - surfing, snowboarding, basketball, wind and kite surfing, football, running, golf, tennis, and pickleball [and willing to try anything]. The goal was to continue all these endeavors without limitation, while avoiding the pitfalls and extended rehab of multiple surgeries. Goal accomplished. I'm doing extremely well, now a little more than 3 months post-stem cell procedures. I'm very pleased and know that I will continue to improve even beyond where I am now. I have Dr. Leiber and his staff to thank for my progress, healing, and significant improvement. From day one, they have been first class in every respect. And Dr. Leiber is just a great individual - a physician who is very skilled and truly interested in your success. I could not be more thankful.

read more

Riley Allen
19:51 10 Feb 21
It is hard to believe how good this works. At first you wonder and are skeptical. But, being able to use my shoulder full

circle is the best feeling in the world! Thanks Dr. Ron Torrance, I am so happy to be active again!!!!

read more

I had the plasma injections on my lower back 6 weeks ago. The day after the procedure, I felt like I'd been poked several

times by a needle, but that's it, and then since then have felt great. No lower back pain whatsoever, and I was a paratrooper for 11 years with 4 bulging disks in my lumbar region. Thanks Dr. Leiber and team!!!

read more

Paul Huszar
18:57 09 Dec 20
I am 100% satisfied with the care I received at Gold Coast Orthopedics yesterday. Dr. Musman is a great doctor and his staff is

wonderful. I highly recommend them.

read more

Great experience from the start Dr. Torrance and the staff reviewed every step of the procedure and followed up several times.

Its been six months since my procedure and the results have been amazing! I would highly recommend to explore the Regenexx process before knee replacement, its worth the research!

read more

Scott Lane
20:18 16 Jul 20
The whole group was very helpful and friendly. Explained things thoroughly. They obviously know their stuff! Felt very

confident scheduling a date for procedure.

read more

Angie Rasner
00:27 05 Jan 20
In April of 2018, I had injections of Amniofix in both of my knees to treat issues of swelling, stiffness, and "noise" - popping,

cracking, grinding. Although they didn't hurt, my knees felt unstable in general. The treatment was performed by Dr. Leiber. In a week I was back to my regular activities, and exercising. My knees felt great. Now, 19 months later, I'm still as active, knees feel good, and I only experience creaking or popping if I don't exercise regularly. No more swelling or stiffness. I feel fortunate to have "discovered" Regenexx and Dr. Leiber's team. Since 2018, four other family members have had multiple joints treated by Dr. Leiber, mostly using stem cells, with results that I'm certain no surgery could have produced.

read more

Bill McIltrot
16:33 18 Nov 19
Dr. Leiber is without question the best.He used my own stem cells and repaired a messed up kneemore than 5 years ago. It is

still working perfectly, no boosters, no extra help.I am thankful for this Dr. and his research team.I have referred many friends to him and he was very helpful in their situations.Thank you Dr. Leiber

read more

willa dunn william
16:57 25 Oct 19
My shoulder was in rough shape. It felt fine as long as I did not do anything with it. Once I had the procedure done and then

completed the rehab, my shoulder is really healthy now. It is up to about 95% strength now. I can lift bags of concrete. I can do push ups too. Not a bunch of them, but I couldn't even do 2 before.

read more

Jerry Powers
02:21 19 Oct 19
I had a torn labrum in my hip and did not want to have surgery. I found Dr. Leiber. He went through my history thoroughly and

then I went for an exam. He advised that my best option would be stem cell therapy. I had the procedure done in 2014 and I am about 90% of where I was before the injury. I didn't realize how much pain I was in until I wasn't in pain any longer. And the relief was almost immediate. He is extremely knowledgeable and I would highly recommend him to anyone. If I had another injury, I'd do it again.

read more

Angela Lee
19:21 15 Feb 18
where are you experiencing pain?
Regenexx® Patient Success Stories
Take the first step by completing the Procedure Candidate Form.
Regenexx at New Regeneration Orthopedics patients receive reduced rates at select area hotels.
Now accepting Aetna, Cigna, Medicare, Humana, and all Blue Cross plans including Medicare Advantage for consultation and Physical Therapy. BCBS PPO HMO POS and advantage all accepted.
Medically Reviewed by James Leiber, DO In recent years, the interaction between mesenchymal stem cells (MSCs) and platelet-rich plasma (PRP) has garnered significant attention in the field of regenerative medicine.
Read More »
Medically Reviewed by Duron Lee, DO The Epidemic of Neck Pain  The demands technology puts on our bodies has turned into an epidemic termed Tech Neck. Tech Neck is the
Read More »
Medically Reviewed by James Leiber, DO What Is the Trigeminal Nerve? The Trigeminal Nerves are a group of nerves that originate on the brain stem. The brainstem is the uppermost
Read More »
Multiple Locations to Better Serve You
Are You a Regenexx® Candidate?